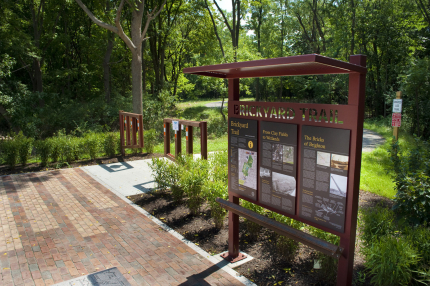 The ¼ mile multi-use trail and border fencing around the perimeter of City Park will provide safe and healthy opportunities for walking, running, and connecting with neighbors. Construction of the trail has begun and will be completed when additional funds are available.
Having easy access to a trail improves not only physical fitness, but also better mental health, increased community connection, and improved quality of life. This trail will be fenced around the perimeter of the park. Meet your walking buddy and in four laps your mile a day is done!
Whether you are a speed walker or a casual stroller, your financial sponsorship of the walking trail will be a medal winner for the community.
Materials have been donated for the construction of the Legacy Walking Trail and metal security fence, however, to complete maintenance-free trail surfacing and the fence, additional funding is needed.
Consider helping fund
the Legacy Walking Trail and security fence in honor of your children and grandchildren and the eternal child in you.
Paver Stones
Designating a paver in the Legacy Walk is the perfect way to show family and friends how much they mean to you while supporting efforts to have quality recreation space for residents.
A tax-deductible contribution of $125 earns you a 4" x 8" paver stone. Gifts of $250 qualify for an 8" x 8" paver. Each stone in the walkway is a lasting testament honoring a friend or loved one. Custom orders with logos and ranch brands are also available.